ATHENS 2011 Official Licensed Products are more than just souvenirs. They are decorated with the ATHENS 2011 emblem, which is a radiant sun, the source of life that underlines the excellence and power of the athlete that takes part in the Games.
Official Licensed Merchandise is produced and distributed by designated licensees who have been appointed through tenders. All products are of modern design and high quality. They are targeted at Greek consumers, international visitors, and supporters of the Special Olympics Games around the world.
Official ATHENS 2011 Licensees:
During the first phase of the Licensing Programme, the ATHENS 2011 Organising Committee for the Special Olympics Games finalised the Licensing contracts for the following products categories:

Product Categories:

Licensee

Porcelain houseware, Glassware

IONIA S.A.


Panteli Makri 2Α & Halkidos str.
111 43 Athens, Greece
Phone: +30 210 3627649, +30 210 4135026
Fax: +30 210 3647343
Contact Name: Manakos Zacharias
E-mail: manakosz@ionia.gr

Ties & Scarfs

MARIANNA PAGONI MODA & CO LTD.


19, Αcademias st. & Voukourestiou st. corner, 1st floor
106 71 Athens, Greece
Phone: +30 210 3627649, +30 210 4135026
Fax: +30 210 3647343
Contact Name : Marianna Samouhos - Pagoni
E-mail: pagoni@pagoni.gr

Pins, Key chains, Magnets, Bags, Travel Goods, Lanyards, Towels, Children buckets, Sandals, Umbrellas, Notebooks and Pens

CREATIVE CONCEPTS HELLAS


188, Piraeus Str.,

17778 Tavros, Greece
Phone: +30 210-3471048

Fax: +30 210-3460353
Contact Name: Mrs Despoina Psilaki
E-mail: marketing@funnyland.com.gr

Stickers, Yo-Yo, Luck BagsFancy & Gadget Items, Wall Clocks, Photo Frames, Lucky Charm, Mobile cases

K+F PAPOULIAS S.A.


P. Tsaldari 15, Kallithea,

Athens Greece
Phone: +30-210-9236063

Fax: +30-210-9223575
Contact Name:John Papoulias

Email: marketing @papoulias.gr

Christmas and Easter ornaments

Le SHOP SA


Skoufa 28, Athens Greece
Phone: +30 210 3644787

Fax: +30 210 3460353

Contact Name: Antonis Kalambakas

Jewelry and home accessories Gold plated and silver plated Jewelry. Gold plated and silver plated home accessories (Photo Frames, base for candles, coasters, glass "shots")

i4D LTD

Kifisias Ave. 100 and Marathonodromon,
151 25, Marousi, Attica
Greece
Phone: +30 210 8024 400
Fax: +30 210 8024 240
Email: info@myi4d.com

Contact Name: Alexandra Koumba

Plush Mascot Apollon

JUMBO SA

9 Kyprou & Idras,
GR 183 46, Moschato,
Athens, Greece
Phone: +30 210 48 05 200
Fax: +30 210 48 05 212
Email: info_jumbo@jumbo.gr

Contact Name: Anna Maria Hatziathanasiou
Apparel & accessories

Stam. Ioannidis & Son S.A.

Katholikon Str, 2
54625, Thessaloniki
Phone: +30 2310-324611
Contact Name: Eirini Charalampidou
Email: Eirini@stamion.gr

Plexiglas Products

Fotiadou Dimitra

Char. Trikoupi Str., 190a,
14564, Kifisia, Greece
Phone - Fax : +30 210-6250511
Contact Name: Fotiadou Dimitra
E-mail: dimitrafb@yahoo.gr

Sports & Wellbeing Bracelets

Bios Balance (V.Vatikiotis)


Psaron 15, Agioi Anargyroi 135-61 Athens, Greece
Phone: +30 210 8322323
Fax: +30 210 8322034
Contact Name: Tsekoura Maria
E-mail: tsekouram@biosbalance.gr

Web site: www.biosbalance.gr
Pins Corner:
Official catalogue with the Special Olympics ATHENS 2011 pins & key chains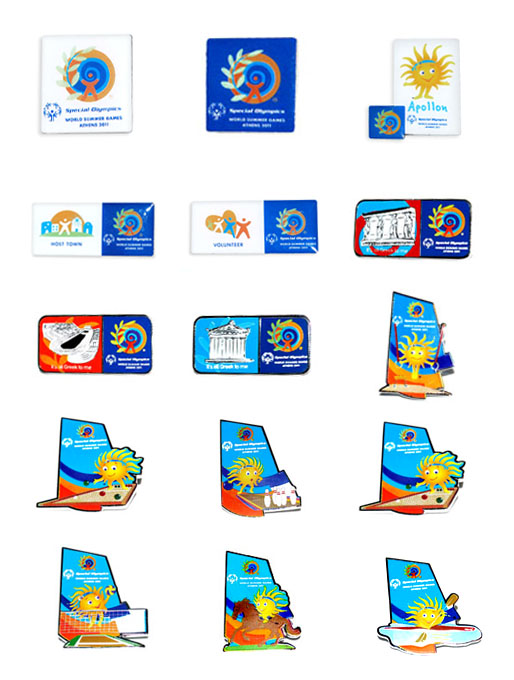 Pins are one of the most popular collectors' products of the Special Olympics Games. The Games of recent years proved that pins are not just a commemorative product; they are also a pleasant hobby. Besides, it is not accidental that pins are called "Spectators' Sport".


The pins are designed and distributed by the official ATHENS 2011 licensee, Creative Concept Hellas.

Pins draw their subjects from a variety of design themes such as emblems, mascots, games values, sports, and a wide range of other design themes. Each pin has a unique code written on the back, as well as a number that indicates the total pins produced in that particular design. If it is issued in less than 35,000 copies, it is particularly valuable as a collector's item, while those having the highest value are designs issued in quantities of less than 7,000, 4,000, or 1,000.
Collector's Items by Ionias' Porcelain for Special Olympics Games
ATHENS 2011
Ionia is presenting a line of special creations in porcelain items, which reflect the spirit and the hopefulness/ optimism of the athletic events. Inspired by the colors of the Special Olympic World Summer Games ATHENS 2011. Official licensed articles of high quality porcelain and modern design, reflect the ability of self-transcendence and the power of these athletes that take part on the games.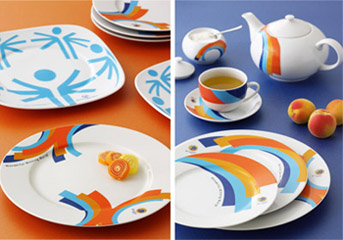 IONIA official licensed Special Olympics ATHENS 2011 products are distributed through the IONIA chain of stores and in selected stores in all Greece. More Information in
+30 210 25 93 600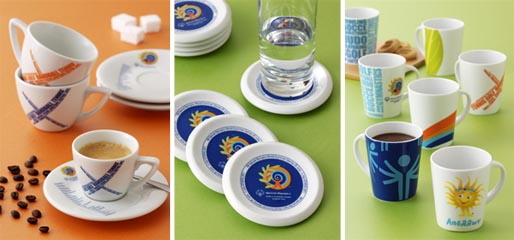 ΙΟΝΙΑ STORES:

KIFISIA: 279 Kifisias Av., tel. 210-8011687,
KOLONAKI: Patriarhou Ioakeim 11, tel. 210-7224125,
GLIFADA: Gr. Lampraki 23, tel. 210-8985905-6,
MAROUSI: THE MALL ATHENS, tel. 210-6300120,
HALANDRI: Haimanta 27Β, tel. 210-6801334,
PEIRAIAS: Iroon Politehneiou 16, tel. 210-4114926,
PERISTERI: Delfon 23, tel. 210-5782800,
RAFINA: Hr. Smirnis 8 & Hr. Mantika, tel. 22940-29077,
ELEYSINA: Pagkalou 59, τtel. 210-5560370
THESSALONIKI: Paulou Mela 15, tel. 2310-288302
PILAIA THESSALONIKI: MEDITERRANEAN COSMOS, tel. 2310-474236,
LAGKADAS: Tsakmani 57, tel. 23940-24882,
XANTHI: COSMOS, M. Karaoli & Elpidos, tel. 25410-84557,
LARISA: Papakiriazi 6, tel. 2410-552155
PATRA: Ermou 64, tel. 2610-271092,
IRAKLEIO CRETE ISLAND: Ebans 26, tel. 2810-280047
SHOP IN SHOP: RETHIMNO CRETE ISLAND: Α. Papanastasiou 1Α , tel. 28310-23930
LAMIA: Rozaki Aggeli 16, tel. 22310-25263.
Unique Creations in Gold and Silver plated Jewelry and
Home accessories
The "i4d" official licensed Special Olympics ATHENS 2011 products are available: a) from company's e-shop http://jewelleryandhome.myi4d.com with payment upon delivery or with a credit card and b) at company's store "i4d" at 100,Kifisias Ave. and Marathonodromon,151 25, Marousi, Attica". More information at: (+30) 210 8024 400.
Better everyday performance!
Our body produces electromagnetic energy. The ideal electromagnetic frequency SRF (Schumann Resonating Frequency) of this operation is approximately 7,8 Hz.
Everyday "enemies" such as stress and illnesses disturb SRF level and lower our performance.
The hologram attached on the Bios Balance bracelet has been formed according to frequencies that operate in harmony with the body's natural energy field and is in that way tuned so as to "clean" all the energy passes, helping the increase of our body's strength, flexibility and stability.
The benefits, as mentioned by thousands of Bios Balance fans are:
Better reaction of body's muscles, increased strength, improved balance, greater flexibility and unique style!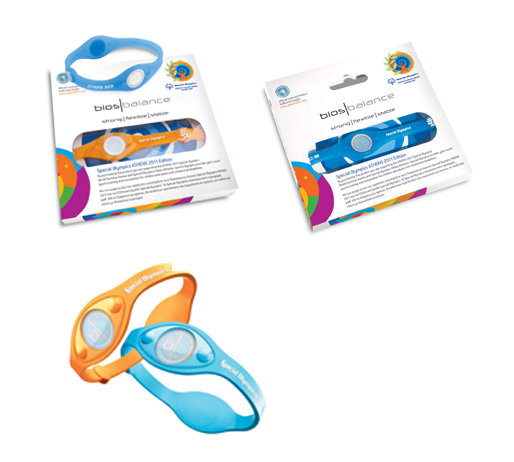 Pin Trading Events:

Pre & Games time with the co-operation of the official Licensee, at Olympic Sports Complex, pin-trading events will be planed, where collectors from all over the world will participate. More information will be available soon.
Product Protection:
The Athens 2011 Special Olympics Games are a matter of national effort, and it is important that each part of this effort, whether large or small, be protected. All official ATHENS 2011 products will bear state-of-the-art systems (holograms) for checking authenticity.
Licensed Stores:
Retail outlets for Special Olympics ATHENS 2011 products are approved in accordance with the specifications laid down by ATHENS 2011. Approved retail outlets are identified by the Official Mark of Approval, which is a sticker placed on the door of every such shop and granted only by the ATHENS 2011 official licensees.
Authorised Stores 2010-2011:
Tourist – Gift Shop, Tsiotras  G., Mnisikleous 7 & Pandrosou Str., Plaka,
Athens, Greece, +30210-3313377
Tourist – Gift Shop, Tirovouzis Ch., Archelaou & G. Petsou 5Str., Edessa, +3023810-23268 email: xristos@pel.forthnet.gr
Tourist – Gift Shop, Mosxos D., Pandrosou 45 Str., Plaka, Athens , Greece,
+30210-3213714
Tourist – Gift Shop, Papanikolaou C. LTD, Pandrosou 1 Str.,
Plaka, Athens , Greece,+30210-3245405
Tourist – Gift Shop: LITTLE POEMS SHOP, Adrianou 74 Str., Plaka, Athens , Greece,+30 210 3222121
Featured works of Greek Artists: PGI PAGANI, 59 Pandrosou Str., 10555, Monastiraki, Μetro Station Monastiraki, +30 210 3219620
Sports Center: SPANOU THEODORA, Karpathos, 85700, +30 2245-0-23975
PAPER COPY CENTER: Paper Copy Center Chalandriou, Paraschou 7 Str. and Bas. Georgiou Chalandri, +30 210-6818755
BookStore: POTOURIDIS Anestis, Mar. Antipa 109 Str., Ilioupoli, 16345, +30 210 9930092
BookStore, FLOROS ATHANASIOS LTS, Main Railway Station, Thessaloniki,
+30-2310-300711
BookStore, FLOROS ATHANASIOS LTD, Komninon 74 Str, Kalamaria,
Thessaloniki
BookStore, FLOROS ATHANASIOS LTD, 25th Martiou 112 Str, Charilaou,
Thessaloniki, +30-2310-300711
BookStore, FLOROS ATHANASIOS LTD, Bas.Olgas 229 Str, Ntepo,
Thessaloniki,+30-2310-416600
BookStore, Georgiou Athanasios LTD, Pentelis 82 Ave., Vrilissia, +30-210-6139385
BookStore, Georgiou Athanasios LTD, El. Venizelou 31 str, Melissia, +30-210-6096647
Licensing Department:
The ATHENS 2011 Organising Committee for the Special Olympics World Summer Games, through its Licensing Programme, grants the right of use of the ATHENS 2011 logos, emblems, and symbols for the manufacture and distribution of products, receiving in return a specific percentage of revenue from sales. The income will be used to support the ATHENS 2011 Special Olympics Games and the Greek Special Olympics Team.
The goal of the Licensing Department is the promotion of the Special Olympics Symbols and Values throughout the world. The Department aims to maximise sales of the ATHENS 2011 products, both in Greece and abroad, within an environment of controlled commercialisation.
The ATHENS 2011 Licensing Department applies:

A licensing programme that promotes the symbols of the Games, selects quality contracting companies, and cooperates closely with them in pursuit of high quality standards and the control of the degree of commercialisation.

A retail sales policy which includes the "Special Olympics Stores & Corners", "Approved Stores" and the retail sales outlets at locations where the Games are staged.
More information about the Licensing program can be received via email: info@athens2011.org.