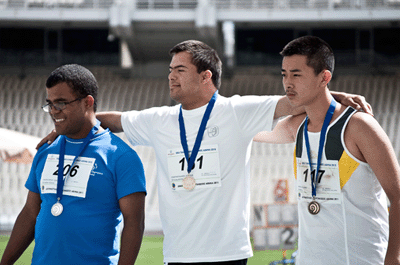 Τhe Athens 2011 Games Organizing Committee will organize and host test events which will trial most of the Special Olympics Games' sports.
The test events, which will launch in May 2010 and conclude by October 2010, will be categorized in two clusters.
The first cluster, which will be organized in terms of the Special Olympics Hellas National Games, will take place May 30-June 3, 2010 (with the exception of Basketball that will occur June 16-18, 2010) and will include the following 12 sports: Aquatics (Swimming), Athletics, Badminton, Basketball, Bocce, Cycling, Football (5-aside), Gymnastics Rhythmic, Powerlifting, Table Tennis, Handball and Volleyball.
The second cluster will take place between May and October 2010 and will include the following 5 sports: Bowling, Equestrian, Judo, Kayaking and Sailing.
It should be noted that Special Olympics athletes from abroad will also participate in the test events, while enriching all sports with an international spirit prior to the World Games.