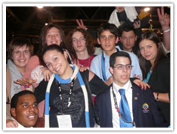 Special Olympics believe that young people should be given the opportunity to make an immediate difference in the lives of people with intellectual disabilities.
Young people are already making a difference by volunteering with Special Olympics in a variety of ways. Whether participating in Special Olympics sports competition as Unified Sports teammates or simply by sitting and talking with a student with intellectual disabilities, youth are changing the minds of people around the globe, forging a more accepting, respectful and intelligent community for the future.
At the same time with the Special Olympics World Summer Games – ATHENS 2011, the Global Youth Summit will take place, with the purpose of bringing together 30-35 youth pairs, ranging from ages 12 to 17, and giving them the opportunity to discuss and develop strategies with Special Olympics to help reverse negative, stereotypical attitudes about people with disabilities.
The Global Youth Summit enables young people to talk openly about their needs / expectations and offer them the opportunity to describe ways to eradicate stereotypes and spread the message of Special Olympics to more people and to the MEDIA.
Τhe Program is supported by "Geitonas School"